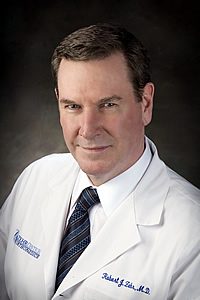 Robert J. Zehr, MD
is a board certified, fellowship trained orthopaedic surgeon and the founder of The Zehr Center for Orthopaedics, a private orthopaedic surgery practice located in Naples, FL. Specifically he specializes in
hip and knee replacement
surgery, complex
revision joint surgery
, knee arthroscopy and trauma reconstruction. Dr. Zehr has over 25 years of orthopaedic surgical experience in complex joint reconstruction and rehabilitation, having been in both the academic environment of the Cleveland Clinic for 15 years and private practice for the past 10 years.  Prior to being sent to Southwest Florida in 1998 to help develop the Cleveland Clinic Naples, Dr. Zehr was the Head of Orthopaedic Oncology for The Cleveland Clinic Foundation where he came on staff after a prestigious fellowship in orthopaedic oncology at the University of Florida and his residency training at The Cleveland Clinic Foundation.
Further career success was achieved while an attending physician at the Cleveland Clinic Naples, where Dr. Zehr distinguished himself as its Executive Director, Chief of Staff and Head of Orthopaedic Surgery while maintaining a full and thriving surgical practice. With the abrupt departure of the Cleveland Clinic from the Naples, FL area, but still wanting to practice in the Southwest Florida community where he had practiced since 1998, Dr. Zehr began his new venture into solo orthopaedic practice in late 2007.  His highly successful joint replacement practice has positioned him as the highest volume hip replacement surgeon in Collier County and the leader in outpatient joint replacement surgery through his surgery center,
Seaside Surgery Center
.