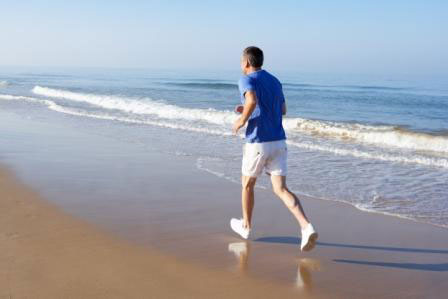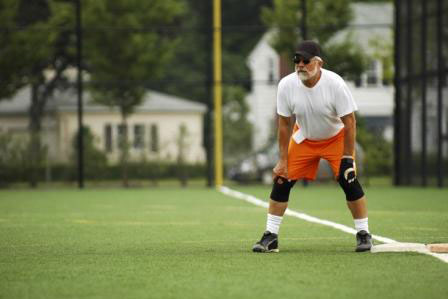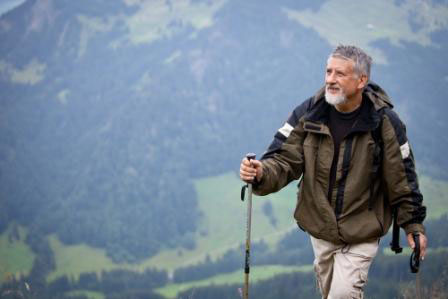 Surgical Techniques – Total Knee Replacement
You need help for the knee pain from arthritis that has gotten so bad you can no longer function well or tolerate the pain with even simple daily activities. The evaluation of your knee by physical exam and X-ray review; and the failure to respond to more conservative measures has left you wondering about your next step. What can be done now? …
The answer may well be a total knee replacement or a unicompartmental knee done with the most advanced minimally invasive surgical techniques and rapid rehabilitation program available anywhere in the world. As a recognized leader, teacher and innovator in minimally invasive surgical techniques for total knee arthroplasty surgery, Dr. Robert Zehr of the Zehr Center for Orthopaedics has had the opportunity to refine the various aspects of the surgical experience for his patients both in the operating room and in the care postoperatively. He is constantly seeking ways to improve patient outcomes, whether it is better methods to educate a patient, pain management techniques or new highly technical advancements in his surgical technique or choice of implants!
In addition, Dr. Zehr has developed a safe and innovative program to provide total knee replacement as an "outpatient surgery".  Younger, healthy patients can completely avoid a hospital setting and its inherent risks.  YOU get your knee replacement and go directly home shortly afterward…the same day!  This is the "front edge" of hip and knee replacement technology across the country and is quickly becoming the preferred setting for  the young, active, working patient who needs to recover quickly to get back to their family and lifestyle.  Check it out at …. Seaside Surgery Center in Naples, FL where Dr. Zehr and colleagues are setting the bar very high in the innovative programs to provide patients the best cutting edge technology available in the country.
Knee Replacements Are in Demand
You should know that knee replacement surgery is really quite common. In fact, last year it is estimated that over 700,000 Americans underwent this highly successful operation to relieve the pain of an arthritic knee joint. Even more impressive is that number is expected to jump to nearly 3.4 million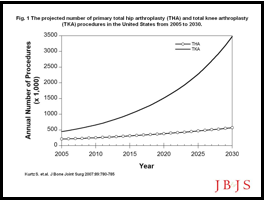 knee replacements annually within the next 20 years [1]. This will be driven by the combination of a dramatic increase in aging Americans and an ever more demanding younger population who are unwilling to live with debilitating knee pain.
Although it has been commonly and mistakenly thought that knee replacement is only for the older, Medicare aged population; it may surprise many people to know that ~50% of all total knee replacements are being done in patients under the age of 65 years [2]. Returning a working age member of society back to a productive and contributing level has made total knee replacement surgery one of the most highly valued surgical procedures of the past several decades.
In fact a recent study by Ruiz, et al. [3] assessing the direct and indirect costs of lost work and wages, disability payments and lower earnings; the lifetime cost savings to society for the 600,000 total knees done in the US in 2009 is over $12 billion..that's just for patients done in one year!
With this astounding estimate of patient need for total knee replacement surgery and its recognized value to society, it becomes increasingly vital that each knee replacement implant survive for as long as possible; hopefully for the remainder of the patient's life. It has been generally accepted that of the knees done 20 years ago, over 90% of them are still functioning today. With an improvement in materials and techniques, it is expected that the survival rate will continue to improve.
Can Knee Replacements Last Forever?
Unfortunately, even with a 90% survival rate at 20 years, there is still going to be a large number of implants that fail for some reason each year. Given the expected increase in demand noted above, the sheer volume of knee replacements being done will result in a significant number that will need to be revised or completely redone.
Currently, ~9% of knee replacement surgeries done each year are performed for revision of previously done surgery (see http://www.zehrcenter.com/revision-total-knee/ ). The number of revisions is expected to show a six-fold increase over the next 25 years [1]. Over the past 3 decades surgeons have discovered several important causes that lead to persistent pain or early failure of knee implants.
Two of the most critical causes of failure have been malalignment of the components and poor balance of the knee ligaments. It is estimated that nearly half of all knee revisions could be prevented with correct ligament balancing [4]. If the various parts of the knee replacement cannot be aligned and rotated to follow the patient's natural movement dictated by the knee's ligamentous structure and / or the knee's ligaments cannot be balanced to allow equal pressure to be generated in all compartments of the knee.. quite simply, it will not feel right to the patient; and it will have a higher chance of early failure than in those knee replacements where these elements can be optimized!
Soft tissues, composed of tendons, ligaments and muscles, exert forces on the joint, enabling its movement. Proper balance of the soft tissues is critical for a joint implant to function correctly. If soft tissues are too tight, the joint cannot regain its full range of motion; if too loose, the joint may become unstable; if loaded excessively on one area, and implant will fail prematurely. The importance of obtaining soft-tissue and ligament balance and appropriate bony alignment of the knee are high priorities for all knee replacement specialists each and every time the procedure is performed.
Unfortunately with current instrumentation, even the most experienced surgeon can find this balancing process quite challenging at times. Until recently, determining the degree of joint balance intraoperatively has been the subjective assessment and skill of each surgeon, making critical soft tissue kinematic adjustments more of an art than an exact science. There has been no method with which to quantify the relative feel of the patient's joint when performing soft tissue releases.. UNTIL NOW!
Computer Assisted / Intelligent Orthopaedic Surgery
Fortunately, there is new and exciting technology that can help the surgeon in the operating room while he is making judgments on the alignment and balance of your knee. What is now being referred to as "Intelligent Orthopaedics" is a new field that harnesses the latest innovations in sensors, accelerometers, microelectronics and wireless communications with the goal of improving healthcare outcomes and reducing the costs of treating musculoskeletal disease.
OrthoSensorTM, the leader in "intelligent orthopedics", has a computer integrated knee system, VerasenseTM, which is used to ensure proper soft tissue balance and limb alignment during total knee arthroplasty. This intelligent instrument replaces the standard plastic tibial tray spacer the surgeon uses to position an implant during total knee arthroplasty. It is used to quantify load and contact position of the femur on the tibia before final implants are selected and implanted permanently.
These highly sophisticated components contain micro sensors, accelerometers, microelectronics and communications technologies that provide surgeon with actionable data to make real time adjustments. The temporarily implanted device quantifies and wirelessly transmits key, real-time information to a graphic display, enabling surgeons to visualize and quantify joint balance, alignment and load throughout a full range of motion. Connected to a computer via wireless link, the sensors provide a quantitative assessment of intercompartmental loads, center of load and kinetic tracking during the trialing of the knee implants. With this evidence, surgeons can make informed adjustments to optimize implant placement and enhance both clinical outcomes and patient's satisfaction.
Watch how the Verasense Tibial Implant
provides real time data to surgeon
The "Intelligent Orthopaedic" sensor, VerasenseTM, is relatively new to surgeons having first been released for use in 2009 by the surgeon developers. Since that time this high technology device has shown great promise and more surgeons are finding this style of ligament balancing more precise and reproducible than with more standard instrumentation. Early study results have shown knee function scores (used to measure before and after results) improved markedly. Not only did postoperative patient activity levels exceed that of preoperative levels, but patients became more active in a shorter amount of time following surgery then in traditional total knee arthroplasty without sensors [5]. In addition, a more recent study of the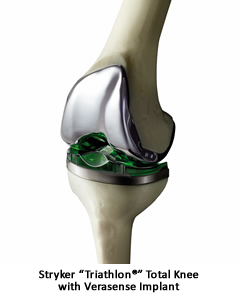 VerasenseTM implant reveals that patients with balanced knees are 2.5 times more likely to achieve significant improvement in Knee Society Scores between pre- and post- operative intervals than are patients with unbalanced knees [6].
One of the more disappointing realizations in knee replacement surgery is having patients fail to achieve their expected outcomes. Although, knee replacement surgery is widely regarded as the best solution for end stage osteoarthritis of the knee, and the vast majority of patients are satisfied with their results, there remains a level of dissatisfaction with the outcome in almost every study of knee replacement patients. It appears that only 80% to 85% of patients report that they are "satisfied" with the procedure. One recent study looking at over 1200 total knee patients in Great Britain discovered that nearly 20% of the patients were either unsure or dissatisfied with the results of their surgery [7].
In a similarly conducted study of 768 total knee patients in the U.S. looking for factors that influence patients satisfaction after total knee replacement, it was found that dissatisfied patients, which comprise about 10% of the total, had not experienced improvements in passive flexion of the knee, pain scores or functions scores when compared to their preoperative state. The number of patients who proceeded with revision was only 3% of the total, but the reasons for reoperation were the same ones that caused the former group to be dissatisfied, that is, instability and stiffness.
Patient satisfaction with total knee replacement is inherently subjective and multifactorial in nature. Many other studies have suggested other underlying factors which likely contribute to unsatisfactory outcomes, but are very hard to quantify, for instance patient's expectations of their outcome, their socioeconomic status, education level, race and severity of pre-operative disease process, as well as, medical issues like diabetes and hypertension. To summarize, not all patients are happy with the outcome of their total knee replacements.
Men's Knees vs. Women's Knees — Reality vs. Hype
When investigating knee replacement surgery a patient must be careful what they read and a word of caution is in order. There are many fine knee implants available to you and your surgeon. Typically your surgeon will choose an implant based on his extensive experience, scientific evidence and past patient outcomes. If there was one design of knee that worked far better in a woman or a man, most certainly all surgeons would use that implant. As it is, no such "Excalibur" implant exists but, there are many implants by several reputable manufacturers that will work very well for you.
Unfortunately, there continues to be heavy marketing by one manufacturer that there is a "Woman's Knee" or a "Gender Specific Knee" that works better for woman. This marketing implies that all of the other knee implants are really men's knees that are being forced to fit a woman's unique anatomy. What you should know is that in this country more than 60% of knee replacements are done in women and to that extent it makes sense for a manufacturer of implants to focus on this part of the market.
The truth is that a woman's knee anatomy IS slightly different from a man's knee, but with the current implant designs virtually every manufacturer makes its implants in multiple sizes. Results supported by the majority of scientific studies indicate that the "unisex" approach of implants works equally well in women as they do in men. It would be worth your time to review one of the award winning studies among many which investigate the misleading claims of superiority of the "gender-specific knee". This study emphatically concludes that… "the data refute the hypothesis of inferior clinical outcome for women following total knee arthroplasty when using standard components"(http://www.ncbi.nlm.nih.gov/pmc/articles/PMC2565048/ ).
The fact remains that knee replacement surgery is not perfected as yet and the outcome studies indicate a small yet reproducible number of dissatisfied patients –both men and woman — with their outcome. It does not seem to make any difference which implants are used. Surgeons, manufacturers and therapists are all working hard to improve these outcomes even further, but for now total knee replacement surgery remains one of the best options for a patient whose knee has deteriorated to the point they can no longer do the things they enjoy. Fortunately, the vast majority of patients who undergo knee replacement each year — some 700,000 — are extremely pleased with their results and are able to get back the lives that were in slow gear because of their arthritic knee.
Pain Control after Knee Replacement Surgery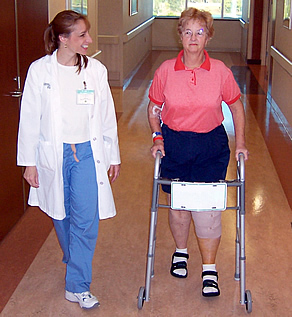 As most patients have heard from friends or family, knee replacement surgery can be quite uncomfortable if not extremely painful. It is also clear that if pain is not managed well, the patient will be unable to properly rehabilitate their new knee. In fact, one of the most common complications of knee replacement surgery is postoperative stiffness. Most typically the stiffness occurs as a result of the patient's inability to adequately participate in the vigorous physical therapy required to regain motion and function.
Fortunately, much has been discovered about pain control in the past 10 years. We know that pain is perceived in multiple locations including the knee, spinal cord and several areas within our brain. To that end, controlling pain requires treating all these various areas adequately with various medical and mechanical modalities — a so called "multi-modal" approach.
Along with providing superior surgical skills and the most modern technological advances to afford you with the best functioning knee replacement, Dr. Zehr and his team do everything possible to control your pain that typically occurs with knee replacement surgery. This is so important so that you are able to get up walking within a few hours after surgery is completed.
Pain management begins before the surgical procedure is even started and a variety of medications are given both in the operating room and shortly afterwards in recovery to control pain, nausea and fatigue. The intense pain of knee replacement surgery subsides quickly for most patients and a more manageable level of pain can be controlled with low level narcotic and anti-inflammatory medication within days to a week for most patients.
Quad-Sparing/Minimally Invasive Total Knee Replacement
Over the recent years many surgeons have been able to reduce the surgical incision when performing a knee replacement surgery. Cutting less of the surrounding tissues in the knee affords the patient less pain and a quicker recovery. Still it is estimated that only 20% of surgeons actually use minimally invasive techniques routinely for a total knee replacement surgery.
A typical total knee procedure performed by Dr. Zehr over the years has been through a "minimally invasive quad sparing approach" with a 4″ skin incision. The quadriceps tendon is not cut and the patella is not everted, both are important in lessening the pain of this procedure. Additionally, the use of a long acting analgesic cocktail that is injected into the knee at the end of surgery combined with an aggressive physical therapy program designed to get the patient up walking the same day of surgery has shown to be one of the most important protocols for controlling pain and restoring function rapidly to the knee.
Dr. Zehr's fit and healthy patients are usually able to return to normal activities such as golf, biking, swimming, doubles tennis and long distance walking in just 4-6 weeks after surgery.
Included below is a basic animation of the steps involved in total knee replacement surgery to provide some basic understanding of the complex procedure.  In addition, and perhaps more useful is the video documentation of the surgical technique used by Dr. Zehr for implanting total knee replacements.