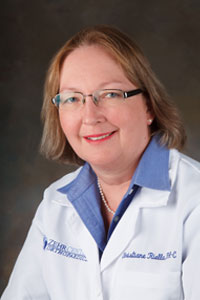 Christiane Riella, PA-C is our highly qualified and knowledgeable Physician Assistant (PA) with over 25 years of orthopaedic surgery experience. She has been assisting Dr. Zehr since 1999, first while with the Cleveland Clinic Naples and now with Dr. Zehr and his staff at The Zehr Center for Orthopaedics. As Dr. Zehr's PA, Christiane assists in all facets of orthopaedic patient care both in the office and in the hospital assisting in hospital rounds. She assists in most surgical procedures that Dr. Zehr performs and is relied upon to keep patients informed and comforted, a role she is eminently qualified to perform.
In addition, Ms. Riella is skilled in educating patients on various disease states and disabilities, as well as performing various office procedures, including the administration of joint injections and wound care under the supervision and guidance of Dr. Zehr. She gives lectures to the local community on the topic of arthritis and joint replacement surgery and assists at most of the community seminars that Dr. Zehr gives.
Ms. Riella received her post graduate Physician Assistant degree from the prestigious Duke University physician assistant program, one of the foremost programs of its type in the country. She maintains her PA certification by attending annual meetings that provide more than 100 hours of certified medical education and is re-certified every six years following a comprehensive 400-question examination on all types of general medicine and orthopaedics updates.
Physician assistants are health care professionals licensed to practice medicine with physician supervision. As part of their comprehensive responsibilities, PAs under the supervision of a physician will assist with physical exams, counsel on preventive health care, and assist in surgery. PAs are trained in intensive education programs accredited by the Accreditation Review Commission on Education for the Physician Assistant (ARC-PA). Because of the close working relationship the PAs have with physicians, PAs are educated in the medical model designed to complement physician training. Upon graduation, physician assistants take a national certification examination developed by the National Commission on Certification of PAs in conjunction with the National Board of Medical Examiners. To maintain their national certification, PAs must log 100 hours of continuing medical education every two years and sit for a re-certification exam every six years. Graduation from an accredited physician assistant program and passage of the national certifying exam are required for Florida state licensure.